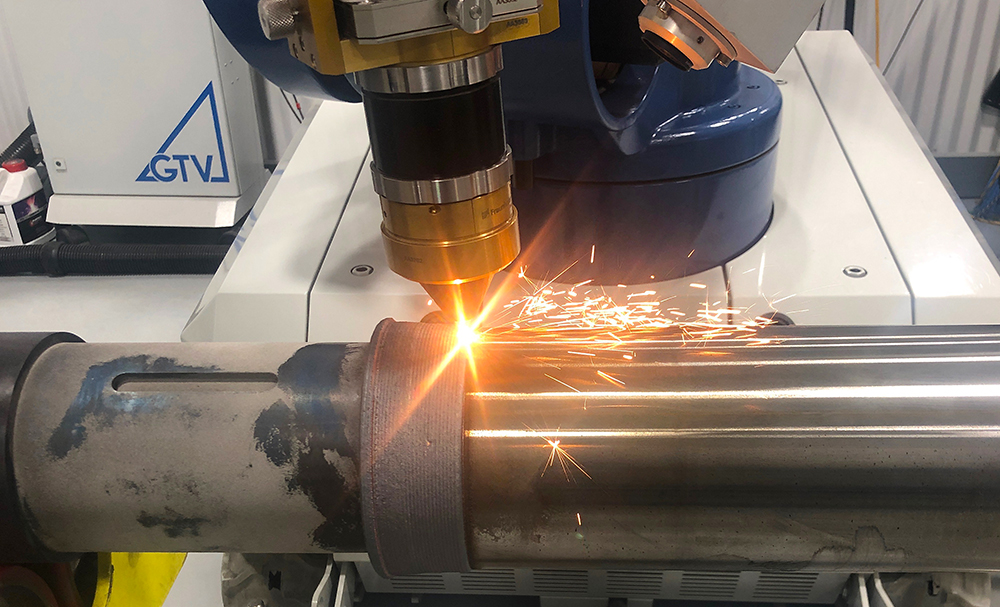 Laser cladding is a way of joining two dissimilar metals by melting and consolidating a metallic powder with a highly focused laser beam to coat the surface of a base metal. It is also used to create near-net shape parts in additive manufacturing (3D Printing).
Laser cladding is accomplished when a laser creates a molten pool of metallic powder on the workpiece surface. Because of the very small HAZ, the cooling of the powder and base metal is quick. The resulting clad forms a metallurgical bond with the base layer, tougher than coatings created by thermal spraying or arc welding.
What Can You Accomplish with Laser Cladding?
Laser cladding can be used to repair damaged or worn out industrial parts, improve corrosion resistance and mechanical properties, and to fabricate metal matrix composites (MMC). Cladding creates a complete metallurgical bond with minimal dilution and HAZ, and potentially reduced oxidation and decarburization.
Laser cladding offers many advantages over thermal spray, arc welding, and plasma coating. Its low heat input, high solidification rate, and superior process control allow for a greater choice in materials and a full metallurgical bond with the base metal. Additionally, laser cladding's rapid heating and cooling rates offer the possibility of creating materials with advanced properties and fine microstructure.
Very thin sections, edges, and complex geometries can be clad with material that is superior to the base metal, creating infinite possibilities where none previously existed.
Advantages of Laser Cladding
Laser cladding has many advantages over other forms of cladding:
A full metallurgical bond with few if any voids or porosity. The clad coating is fully dense and will not peel or flake. Complex geometries are no problem.
Little to no thermal distortion reduces or eliminates post-weld machining.
A greatly reduced HAZ (heat affected zone) increases the strength and reduces dilution of the clad. That means better corrosion resistance, dramatically better wear, and a purer clad layer. Potentially replaces nitriding.
Lower material costs. Thinner clad layers can be applied compared to arc welding. This can significantly reduce materials costs.
A fast solidification rate and low thermal input allow materials to be clad which would melt with conventional arc welding.
Precise control over layer thickness. Thinner layers of cladding material are added, resulting in a superior surface finish. An unlimited number of layers can be added for any thickness.
A near net shape coating reduces the amount of post-cladding machining.
The ability to automate laser cladding creates high repeatability and process stability.
High deposition rates reduce the application time.
A nearly unlimited choice of materials, including graded material application. Powder offers the potential to vary the alloy composition in nearly unlimited ways.
Contact Us
To learn more about the possibilities of laser cladding, contact us at any time.