Alpha Laser's ALFlak 300 and ALM 300 are 2 of our most popular laser welders, used in businesses worldwide.
The AlFlak 300 Laser Welder – Flexible and Fast
In the automotive industry, when a mistake is made in machining a part, it's a lengthy process to repair it with traditional welding. The part has to be removed from the milling machine, moved to the welder, pre-heated, welded, installed back in the mill, retouch the tooling, and finally weld it. This repair process can take hours to days.
But with laser welding, the repair can happen in minutes. As seen in the image below, Alpha Laser's AlFlak 300 laser welder is lifted directly into the mill, where the part is repaired within an hour, without any further disruption to the manufacturing process. After the part is fixed, the AlFlak 300 is lifted out.
This is a true breakthrough in technology – The AlFlak 300 laser welder is fast, flexible, and easy to learn.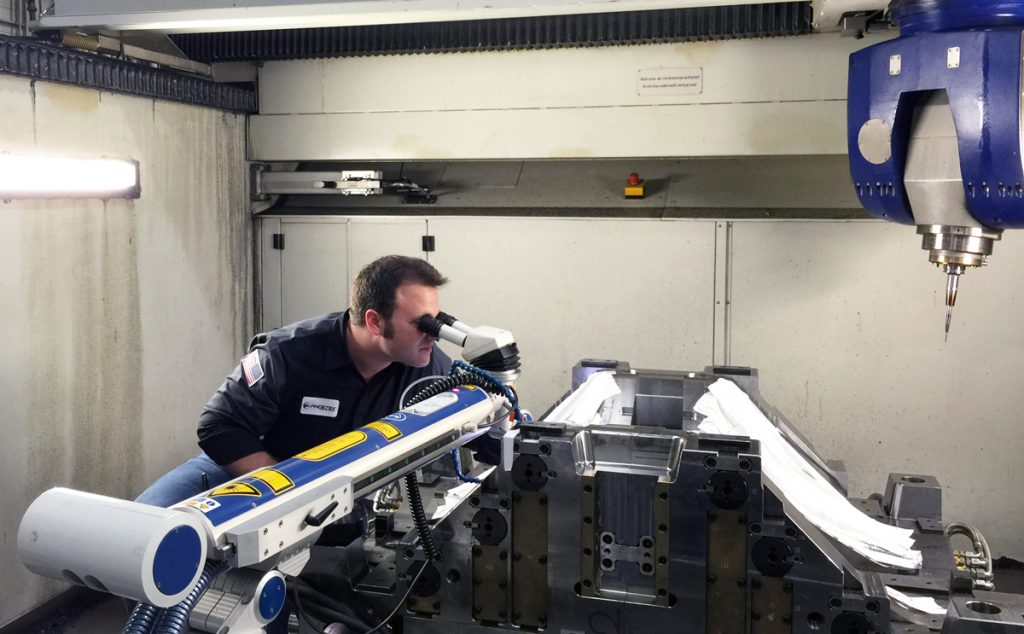 The ALM 300 Laser Welder – When Accuracy and Maneuverability Matter
The ALM 300 Laser Welder, known for its extreme flexibility and power, is used in almost every industry, spanning Tool & Die, Automotive, Aerospace, Defense, Fabrication/Manufacturing, and others.
Below is an ALM 300 repairing an injection mold. Instead of removing the entire mold from the press, and then removing the damaged component, the ALM 300 laser welder can repair the damaged part accurately while still in the press, and the weld can be hand worked off so that the injection molding press can be back up and running in a matter of minutes instead of days or hours.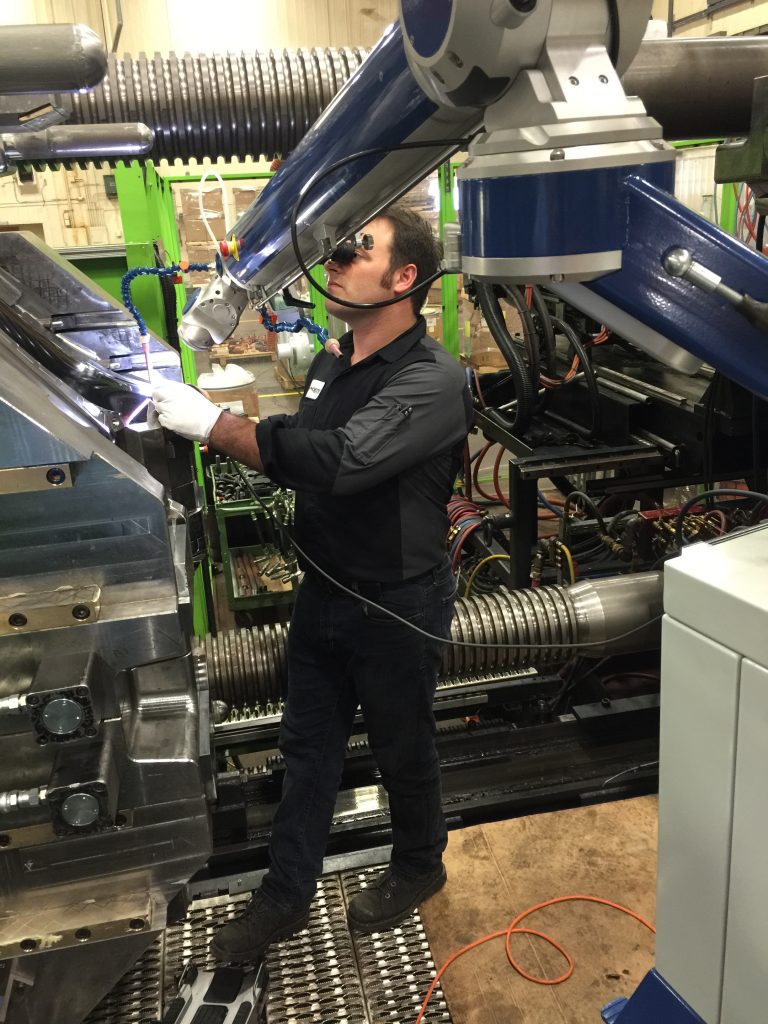 The ALM's main advantage is flexibility. It has a relatively small body and can be placed in locations with very little space. When the arm is extended all the way out, it can reach over 4.5 feet. It has a brake based locking system, so you can unlock the brakes, manipulate the arm into location in seconds, then lock the brakes and start welding. This flexibility is extremely important when large or cumbersome parts have to be accessed, or when welding needs to be done in an area with very little space to maneuver.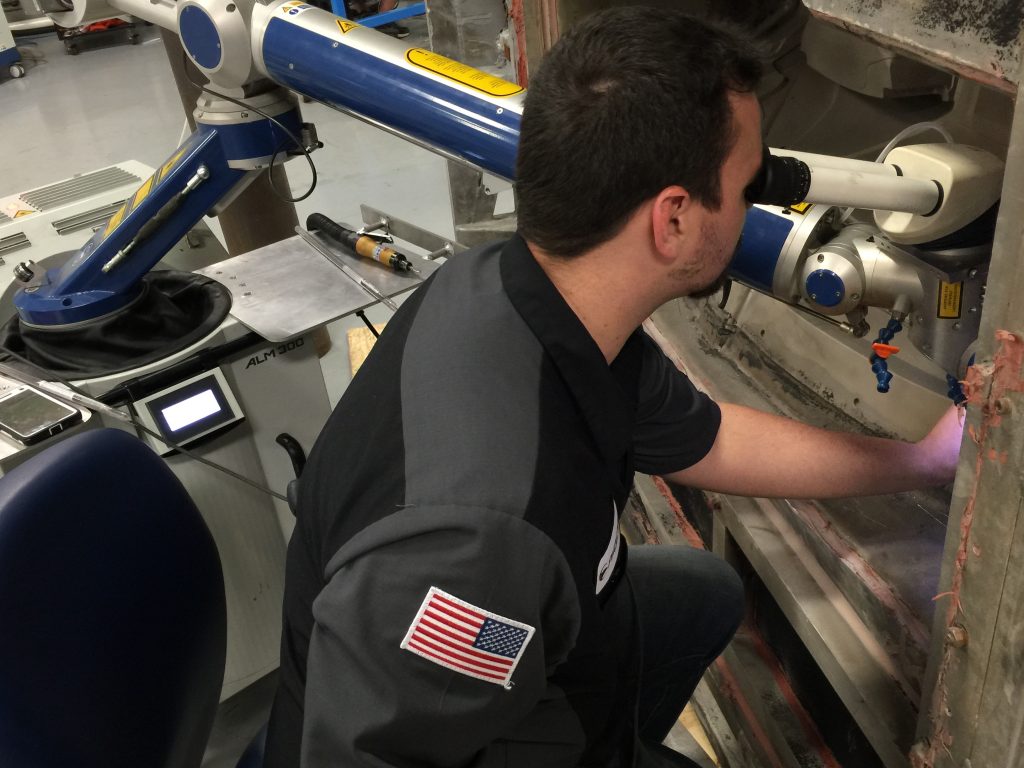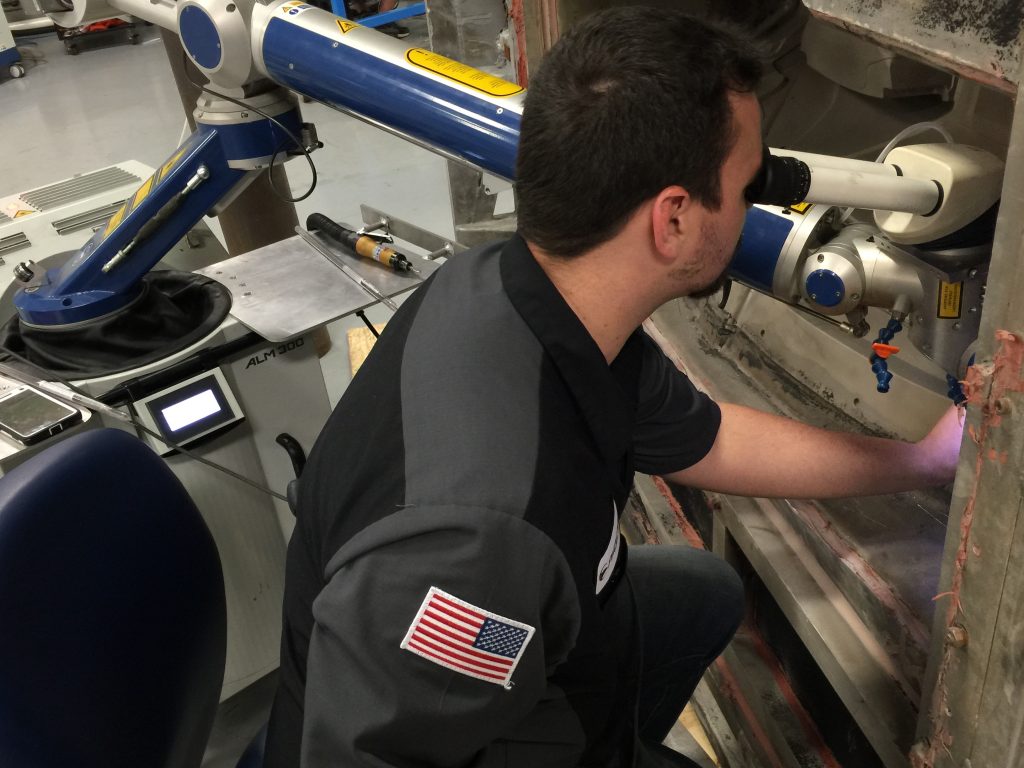 The ALM and ALFlak laser welders provide extreme flexibility and power. This allows for quick repairs in previously impossible positions!
See more on the ALM laser welder.
See more on the AlFlak 300 laser welder.