When a mold needs repair, welding is commonly used to restore it to its optimal working condition. To eliminate or minimize the inherent problems with traditional welding, advanced laser welding technology can be used to increase mold life and improve the manufacturing process.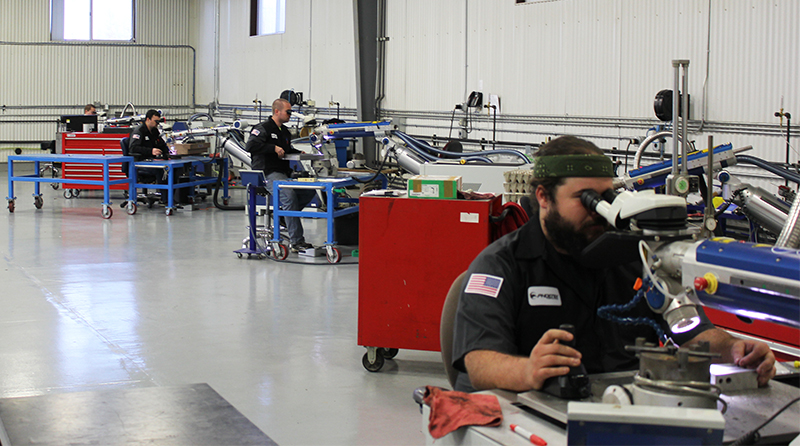 Take a simple gate repair. Gates become worn or damaged after frequent use and an optimal repair process can return the gate to its original state, or to an even better condition. In a typical gate repair, Alpha Laser follows these steps:
Analyze the damage. Our technicians determine the degree of damage to the gate. Gates can develop cracks during normal operation, during startup or cycle interruption, during a previous repair process, or by other means.
Inspect the defects. To find the source of the defects, we perform a visual inspection as high as 24x magnification, use dye-penetrant inspection (DPI), or use fluorescent penetrant inspection (FPI). This allows us to find small pits, microscopic cracks and larger cracks in the gate. If these defects are not identified and repaired, more problems can arise for the gate and the mold.
Remove damaged material. Our technicians machine out the damaged and fatigued material. This removes stress and allows the repair to be built on "virgin" steel unaffected by previous welds, restoring the gate to a "like-new" condition.
Laser weld. Pulsed laser welding creates exceptionally low heat input, unlike TIG, microTIG and plasma welding. This advantage over traditional repair methods includes:
a smaller, sometimes undetectable, heat-affected zone (HAZ)
greater control of grain growth
desired hardness for as-welded repairs
wider variety of material combinations
lack of pitting and internal defects
potential to eliminate pre- or post-weld heat treatment
reduced distortion or shrinkage
decreased turnaround time
better weld bond
Laser welding, combined with targeted material selection and hardness matching, results in a gate repair that surpasses what can be achieved with traditional methods that match the base material and the filler. The laser welding process permits the use of a wide range of dissimilar metals, allowing selection of a filler metal that will result in optimal performance. Laser welding can be used to combine many different materials, including P-20, Beryllium Copper (BeCu), Stainless Steel, S-7, H-13, and others. One of the most common marriages of materials is Stainless Steel to BeCu, which maintains the cooling properties of BeCu while adding a better wear surface in the Stainless Steel. For example, a 410 stainless steel filler can create a fine martensitic microstructure, delivering optimal wear without compromising the mold's ability to withstand flexing during injection.
Repairing molds with laser welding also allows the welder to reach areas that might be in hard-to-reach places or surrounded by critical features, placing the gate repair out of range when using another method. Laser welding is highly precise and is a line-of-sight process—if you can see it, you can weld it.